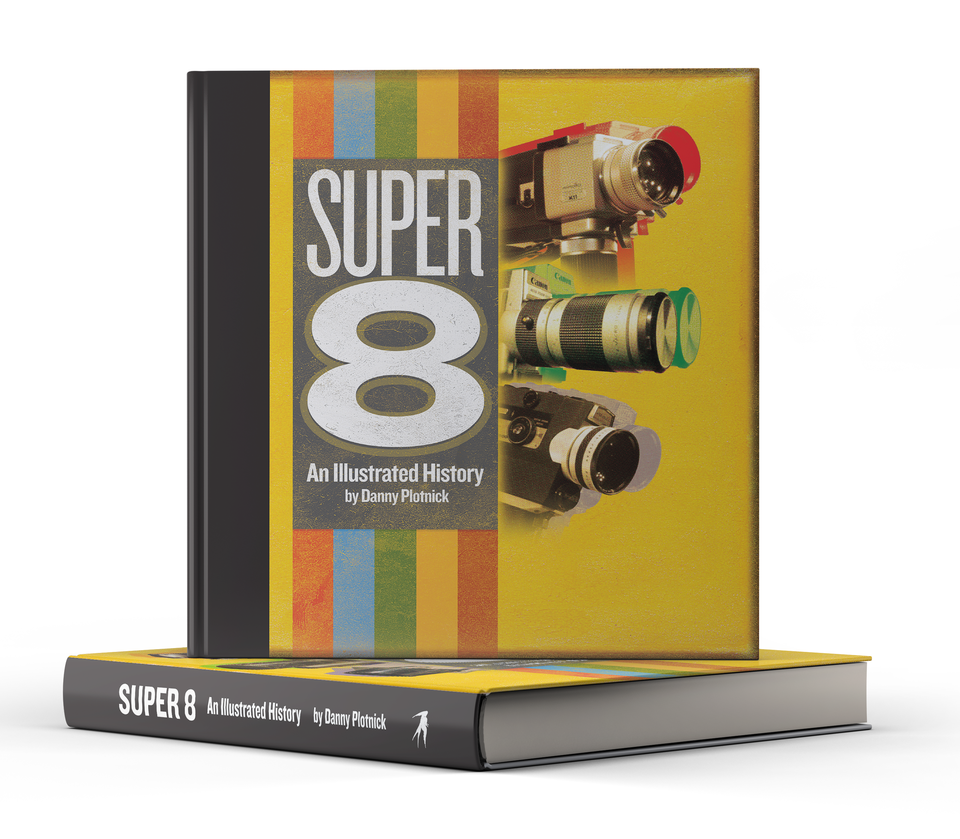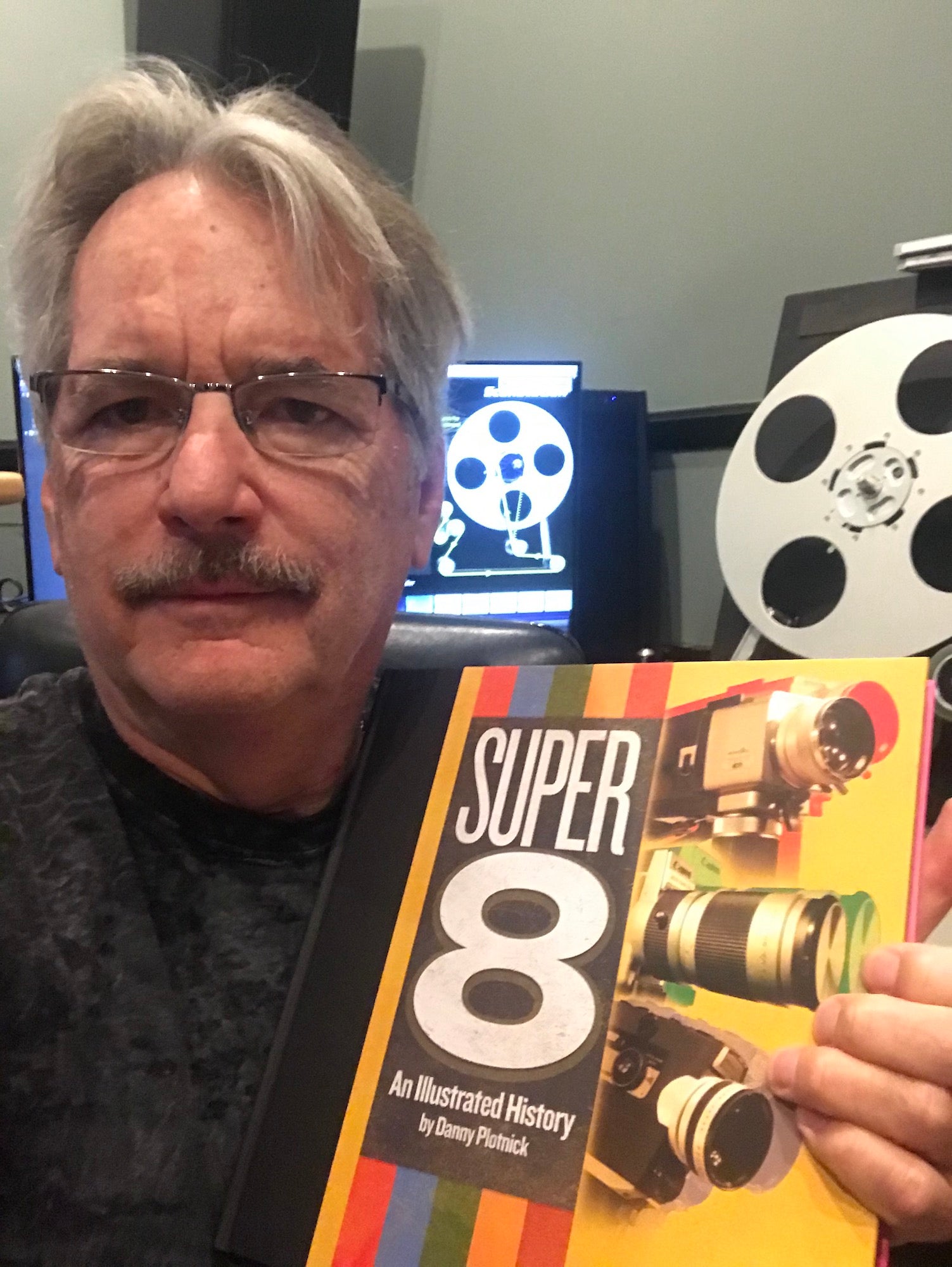 Super 8: An Illustrated History by Danny Plotnick
Super 8: An Illustrated History is a coffee table art book showcasing the history of Super 8 filmmaking. In addition to featuring stunning photography documenting the sleek mid-century design of Super 8 cameras and projectors, the book also offers a detailed history of the beloved medium—one not only embraced by suburban dads, the target audience of the format, but by the art world, punk rockers, and ultimately popular culture. Filmmakers who got their start in Super 8 include, Robert Zemeckis, Jim Jarmusch, Todd Haynes, Sam Raimi, Wes Anderson, and Alex Gibney. 
Additional Product Details
From Phil, President of Pro8mm: It has been a labor of love for years, and we are absolutely ecstatic to have received our copy of Danny Plotnick's new book . Super 8: An Illustrated History.  The book is absolutely BEAUTIFUL, and does a fabulous  job telling the story of super 8 through pictures, interviews, and milestones.  We are so honored that we have been included in this anthology. Both the founder of Super8 Sound, Bob Doyle who we purchased the company from, and Pro8mm's   Phil Vigeant have been included, sharing their super 8 stories.   
Super 8 also features interviews from filmmakers who got their start in Super 8 and individuals who were instrumental in the development of the medium. Interviews include filmmakers Richard Linklater (Slacker, Boyhood, Dazed and Confused), Dave Markey (1991: The Year Punk Broke), Rocky Schenk (music videos for Adele, Devo, Nick Cave, The Cramps, Robert Plant), James Mackay on Derek Jarman (Last of England, Jubilee), Lenny Lipton (The Super 8 Book), James Nares (Rome '78), G.B. Jones (The Lollipop Generation), Bruce LaBruce (Hustler White, The Misandrists), Peggy Ahwesh (Martina's Playhouse), Paul Sheptow (Super-8 Filmmaker magazine), Ed Sayers (The Straight 8 Film Festival), Melinda Stone (Super Super 8 Film Festival), Jonathan Tyman (Ann Arbor 8mm Film Festival), Norwood Cheek (Flicker zine and screening series), Martha Colburn, Narcisa Hirsch, slit, Matthias Müller, John Porter, and Karissa Hahn. On the technical front, the book features interviews with Roland Zavada (Kodak), Bob Doyle (Super8 Sound), Phil Vigeant (Pro8mm), Frank Bruinsma (Super8 Reversal Lab), and Tommy Madsen (Logmar Camera Solutions).
FAQ
What is the shipping policy?
Web Orders containing Film Stock:  Web orders placed before 2pm PST will be shipped out same day if shipping via Fedex. Web orders with a US Mail carrier selection will ship within 2 business days, excluding holidays.
Web orders containing Services (ie: Processing and /or Scanning only): Carefully package up your film. If you are sending un-processed film, please write DO NOT X-RAY on the outside of the package. Please include a copy of your Sprocket order. Your film will be processed and or scanned in 3-5 business days (schedule and volume permitting). We will use the shipping option you selected at checkout to return the items back to you.
When film is returned for processing and scan, all rolls will be prepped together onto one reel and one digital file per 400 feet. This applies to new packages, Kodak film, and archival film. No exceptions. Individual files or prep is available for an extra fee. See Sprocket or our Digital Mastering Services Agreement for prices and options. 
Web Orders Containing Cameras: Pro8mm cameras are made to order. Turn around time varies by camera (Approx times are as follows: Rhonda Cam 4-6 weeks, 814 4-6 weeks, Classics 4-8 weeks). Fedex is recommended on all camera purchases. If you purchased a camera repair, Please carefully package up your camera and include a copy of your web order in the package. 
Can I pickup my order?
In store pickup is available at our Burbank, CA location and may be selected during checkout. A sales team member will contact you when your order is ready for pickup, within 24 hours. New policies are in effect due to COVID19. Please do not come to the store unless absolutely necessary. Masks are required. 1 person in the lobby at a time. We also offer curbside pickup.
What delivery services do you offer?
Pro8mm uses standard Fedex delivery including ground, priority overnight, standard overnight, 2-day, express saver, international, and Saturday delivery, and standard USPS options such as Priority Mail and First Class Mail. Standards rates will apply depending on what you select on Sprocket or at checkout. All items are shipped using the clients' specified services to the clients' specified address. All products ship with Fedex include signature required. Client that request package be delivered without a signature are responsible for tracking and delivery. For large orders, time sensitive orders or items of extreme value, Fedex is always recommended.
What about Hard Drives?
Customers may buy a drive from Pro8mm, have files delivered via global access, or supply your own drive as long as Pro8mm drive polices are met. See Sprocket for a full list of options and requirements. Should you supply your own drive, the drive must USB3, formatted, and delivered before time of service, or a $35 fee with apply. No exceptions. 
How long can you store my film and equipment for?
Pro8mm can no longer store customers film & files indefinitely free of charge. Beginning May 1, 2020 we will be charging customers if they want to leave their film, files or equipment at Pro8mm for more than 30 days. Storage is always free for the first 30 days! Your digital file on our server and your physical film at our facility if you can't pickup right away. After that, you may buy a 6, 12, or 24 month contract for storage. This option is great for clients who want to pick-up when they are in the LA area and not incur the cost of shipping, or just want that extra security for their digital file for a longer period of time. Any items left at Pro8mm without pre-paid storage will be considered abandoned and will be recycled after 30 days. Purchase your storage contract at Sprocket.
Do you offer returns or refunds?
Pro8mm has a no refund/no return policy. All sales are final. We regret that we cannot exchange any film stock for a different stock once it has left our facility. This is so we can ensure the highest possible standards of quality control.
How does tracking work?
Due to our high volume of orders, we do not contact clients when your package arrives unless we have a question about your order. Please write down your tracking number! If your package is in transit this will help us track it. Standard turn around times vary by product. Please see Turn Around Times for details. We recommend services with signature required and a tracking number to ensure confirmation of delivery.
Where do I send my items to?
Please send your items to:
Attention: Sales Team at Pro8mm
2805 West Magnolia Blvd Burbank, CA 91505
What if I have more questions?