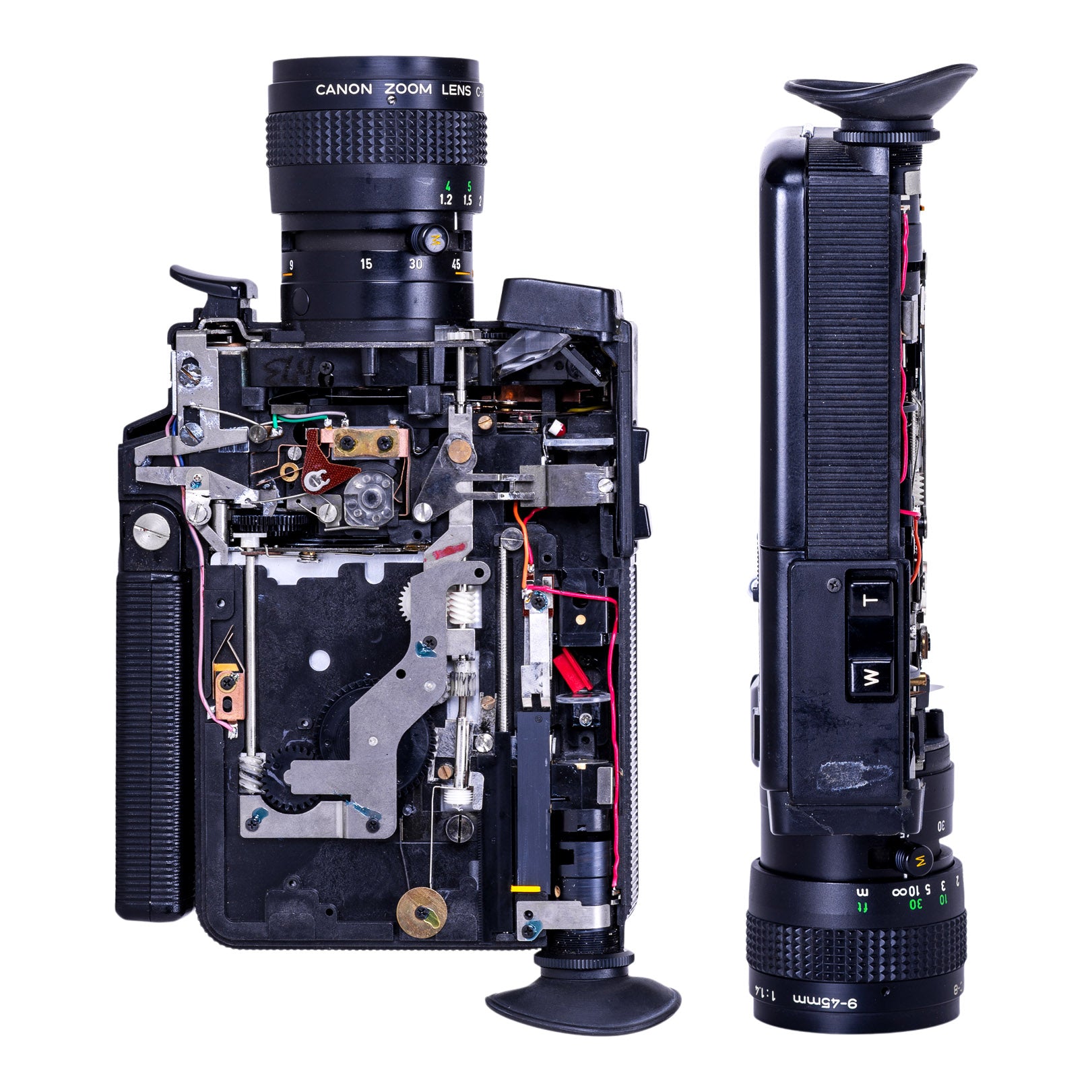 American Restoration Canon 310xl
Bring your existing Canon 310xl camera up to Rhonda Cam standards! Pro8mm camera technicians are the world experts in service and repair of Canon Super 8 cameras. Our engineering R&D allows us to surpass the original factory standards set for these cameras.
Additional Repair Details
The following services will be performed to convert your Canon 310 XL to a Rhonda Cam:
Replace deteriorated foams
Adjust take-up torque
Clean & Collimate the lens
Calibrate the autoexposure system
Tighten the viewfinder optic
Replace leatherette skin with interchangeable black camera skin
Clean & lubricate shutter & drive 
Clean battery system
Shoot film test and inspect for full functionality
Disclaimer: When your camera arrives at Pro8mm for repair, it will first be evaluated  (included in the price; $95 non-refundable.) Due to the level of damage some cameras have sustained, if your camera is beyond economic restoration, it may not be accepted for this conversion program.
Additional damaged parts are not included in the Restoration price. Some cameras will require additional repair services based on the condition of your individual camera.
The Art of Super 8 Camera Repair
Camera Repairs FAQ
What is the Shipping Policy for Repairs?
Please carefully send your camera to us with the carrier of your choice, and a copy of your online order. Evaluations take on average 2-3 weeks. We will use the shipping on your order form to return the camera to you.
Please send your items to:
Attention: Repair Team at Pro8mm
2805 West Magnolia Blvd Burbank, CA 91505
Do you ship internationally?
Yes, Pro8mm has clients all over the world. Customers will be responsible for paying any applicable import duties and taxes. Charges may vary based on the contents of the order. Customers are advised to contact their local customs office for further information on current import regulations.
Can I pickup my camera once it's done being repaired?
Yes. In store pickup is available at our Burbank, CA location and may be selected during checkout. A sales team member will contact you when your order is ready for pickup.
How are Pro8mm cameras different from other Super 8 cameras?
Pro8mm's cameras are rebuilt original Super 8 cameras. They are artfully re-crafted by our in-house team of technicians with decades of experience. We repair all aspects of the camera, including internal-structures, body, battery systems and more, so you are getting the very best camera with characteristics that surpass the original factory specifications.
What camera models can you repair?
Pro8mm works on select Beaulieu and Canon camera models. We currently repair the following models:
Beaulieu 4008 series
Canon 814 Auto Zoom
Canon 514xl
Canon 310xl
What type of film does a max8 camera take?
Max8 cameras can shoot with any normal super 8 cartridge. This includes both pro8 and super 8 film stocks. The modification is in the camera, not the film. The advantage of shooting on max 8 is that you get 20% more image on the frame because it utilizes the area once reserved for the audio track.
Do the cameras record sound?
Super 8 film stocks with the magnetic sound stripe are no longer manufactured and therefore it is no longer possible to record sound directly onto the film using a super 8 sound camera. However, it is possible to record sync sound on a separate audio recorder while shooting with a crystal-sync super 8 camera. The motors in these cameras are crystal-controlled to ensure consistency in the filming speed, so they remain in perfect synchronization with the sound recorder.
What if I have more questions?