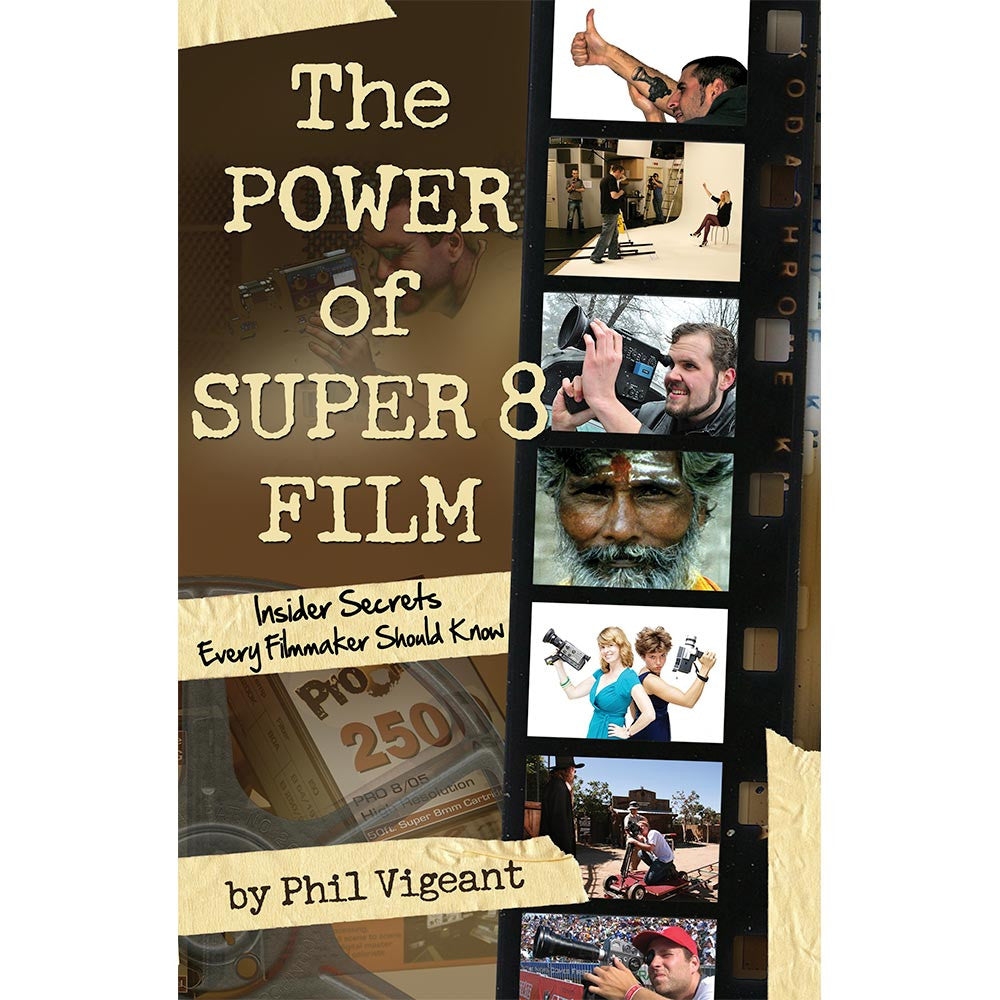 The Power of Super 8 Film Book
Currently Sold Out. Try Instead: Super 8: An Illustrated History by Danny Plotnick
Read the First Chapter for Free! Finding a Super 8 Camera
Many emerging filmmakers spend a fortune on equipment, expensive university film programs, private classes, or over priced post-production, that often renders mediocre quality, and they still feel as if something is missing. They look at their progress as marginal compared to their financial investment, time commitment and ability to work the craft. That is the purpose of this book. You will get the inside skinny from Phil Vigeant's expertise of running a company that has worked with industry insiders using Super 8 film for over 30 years.
The Power of Super 8 Film will guide you through the steps you should take to immediately give you the experience of shooting film on film, the way all the greats did. You will see how to get a huge bang for your filmmaking buck by using an inexpensive Super 8 camera, a 50-foot cartridge of film, chemistry and the very best in digital scanning.
Additional Product Details
Phil Vigeant is one of the industry's foremost experts on Super 8, and his new book The Power of Super 8 Film is a must-read for anyone seeking to explore its creative possibilities. Phil's innovations have helped keep this time-tested format alive and relevant for today's filmmakers, and 'The Power of Super 8 Film' offers a wealth of information for both students and professionals.

– Stephen Pizzello – Executive Editor, American Cinematographer Magazine
With the renaissance of Super 8 and its establishment as a desirable imaging medium, the time is right for a contemporary guide to this unique format. The Power of Super 8 Film couples Phil's encyclopedic knowledge with recent technical innovations to provide an essential guide for newcomers and seasoned users alike.

– Giles Perkins – Editor, onsuper8.org, Super 8 Filmmaker
Super 8 continues to have a great following of creatives and a steady flow of new "converts". Phil's commitment to support this at the highest quality, with investment and enthusiasm, is impressive. He just transferred some of my old Super 8 films to Blu-Ray. They look superb.

– Peter Boyce – Regional Business General Manager, Eastman Kodak Company
A common anecdote among Cinematographers is how the Super 8 films they shot during their youth put them on their career paths. Today they are using Super 8 film to shoot flashbacks because small format film is an organic medium, which evokes emotional responses. Film is also the only proven archival medium. Phil Vigeant's Book The Power of Super 8 Film belongs in every film school library.

– Bob Fisher – Cine Journalist, President, CCS Public Relations
Shooting with super 8 gives you the feeling you can fly. You are so unshackled, and free. Phil and the entire crew at Pro8mm makes you feel as though you have got a partner in film. They want you to succeed as badly as you do. They've got the tools and know-how to make your dreams fill the screen.

– Kurt Markus – Award Winning photographer, Independent Filmmaker for Jewel and John Mellencamp
Phil Vigeant has centered his professional career on pushing the tiny Super 8 frame to its maximum potential. Credited with the invention of Super 8 negative film and custom 16:9 Super 8 camera modifications, his company Pro8mm has developed workflows that parallel those used in Hollywood. This created the opportunity to use the powerful tiny medium in hundreds of professional projects for television, motion pictures, music videos, commercials, independent features, documentaries and archiving of legacy footage.
FAQ
What is the shipping policy?
Web Orders containing Film Stock:  Web orders placed before 2pm PST will be shipped out same day if shipping via Fedex. Web orders with a US Mail carrier selection will ship within 2 business days, excluding holidays.
Web orders containing Services (ie: Processing and /or Scanning only): Carefully package up your film. If you are sending un-processed film, please write DO NOT X-RAY on the outside of the package. Please include a copy of your Sprocket order. Your film will be processed and or scanned in 3-5 business days (schedule and volume permitting). We will use the shipping option you selected at checkout to return the items back to you.
When film is returned for processing and scan, all rolls will be prepped together onto one reel and one digital file per 400 feet. This applies to new packages, Kodak film, and archival film. No exceptions. Individual files or prep is available for an extra fee. See Sprocket or our Digital Mastering Services Agreement for prices and options. 
Web Orders Containing Cameras: Pro8mm cameras are made to order. Turn around time varies by camera (Approx times are as follows: Rhonda Cam 4-6 weeks, 814 4-6 weeks, Classics 4-8 weeks). Fedex is recommended on all camera purchases. If you purchased a camera repair, Please carefully package up your camera and include a copy of your web order in the package. 
Can I pickup my order?
In store pickup is available at our Burbank, CA location and may be selected during checkout. A sales team member will contact you when your order is ready for pickup, within 24 hours. New policies are in effect due to COVID19. Please do not come to the store unless absolutely necessary. Masks are required. 1 person in the lobby at a time. We also offer curbside pickup.
What delivery services do you offer?
Pro8mm uses standard Fedex delivery including ground, priority overnight, standard overnight, 2-day, express saver, international, and Saturday delivery, and standard USPS options such as Priority Mail and First Class Mail. Standards rates will apply depending on what you select on Sprocket or at checkout. All items are shipped using the clients' specified services to the clients' specified address. All products ship with Fedex include signature required. Client that request package be delivered without a signature are responsible for tracking and delivery. For large orders, time sensitive orders or items of extreme value, Fedex is always recommended.
What about Hard Drives?
Customers may buy a drive from Pro8mm, have files delivered via global access, or supply your own drive as long as Pro8mm drive polices are met. See Sprocket for a full list of options and requirements. Should you supply your own drive, the drive must USB3, formatted, and delivered before time of service, or a $35 fee with apply. No exceptions. 
How long can you store my film and equipment for?
Pro8mm can no longer store customers film & files indefinitely free of charge. Beginning May 1, 2020 we will be charging customers if they want to leave their film, files or equipment at Pro8mm for more than 30 days. Storage is always free for the first 30 days! Your digital file on our server and your physical film at our facility if you can't pickup right away. After that, you may buy a 6, 12, or 24 month contract for storage. This option is great for clients who want to pick-up when they are in the LA area and not incur the cost of shipping, or just want that extra security for their digital file for a longer period of time. Any items left at Pro8mm without pre-paid storage will be considered abandoned and will be recycled after 30 days. Purchase your storage contract at Sprocket.
Do you offer returns or refunds?
Pro8mm has a no refund/no return policy. All sales are final. We regret that we cannot exchange any film stock for a different stock once it has left our facility. This is so we can ensure the highest possible standards of quality control.
How does tracking work?
Due to our high volume of orders, we do not contact clients when your package arrives unless we have a question about your order. Please write down your tracking number! If your package is in transit this will help us track it. Standard turn around times vary by product. Please see Turn Around Times for details. We recommend services with signature required and a tracking number to ensure confirmation of delivery.
Where do I send my items to?
Please send your items to:
Attention: Sales Team at Pro8mm
2805 West Magnolia Blvd Burbank, CA 91505
What if I have more questions?